Marina Pomer Pula
Pula is situated on the very southern part of the Istria Peninsula and offers numerous possibilities to built ports in the surrounding bays. One of the existing ports is Marina Pomer situated on the south-east side of the bay only 10 km south of Pula. Pula has regular bus and railway connections with other Croatian cities as well as with Italy, Austria and Slovenia. Moreover, Pula has also an international airport which is only 5 km away from the city. Pula is therefore indeed an ideal place to begin a yacht charter due to its favourable traffic connections.
The distance from Marina Pomer Pula to the below stated cities:
Trieste 120 km
Ljubljana: 225 km
Milan: 520 km
Graz: 430 km
Vienna: 610 km
Munich: 630 km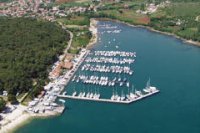 Marina Pomer has 253 berths and 30 dry berths. The berths are connected to water and power supply. At Marina Pomer the following facilities are available: a reception, an exchange office, restaurant, toilets with showers, a grocery shop, a nautical repair service shop, a 10 t crane and a parking lot. The nearest fuel supply station is 5 nautical miles away at Pješčana uvala (the Sand Cove).
Approach to Marina Pomer by sea:
Due to many reefs and shoals it is recommended to approach Marina Pomer from the direction of the main channel east of Fenera and then further on between the islets Ceja and Bodulas. Since the sea is shallower around the islet Bodulas it is safer to navigate nearer to the islet Ceja. During night-time a lighthouse situated on the Munat Cape facilitates navigation. When entering the bay it is necessary to navigate between the Munat and Kašteja Capes in order to avoid the Pomerski Školjić Islet in the west.