Marina Dalmacija Zadar
Marina Dalmacija Zadar lies in the nature protected bay between two picturesque villages, Bibinje and Sokušan, only 7 km away from Zadar. Zadar has regular bus and railway connections with all Croatian cities as well as with Italy, Austria and Slovenia. Zadar also has an international airport, which is only 5 km away from the city. All these favourable traffic connections make Zadar an ideal place to begin a yacht charter from.
The distance from Marina Dalmacija Zadar to the below stated cities:
Zagreb: 265 km
Ljubljana: 340 km
Trieste: 300 km
Vienna: 625 km
Rijeka: 215 km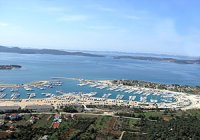 Marina Dalmacija Zadar stretches over 35 hectares of sea and 35 hectares of land surfaces with over 1200 fully equipped berths and 500 dry berths. The piers are equipped in compliance with the European standards. At Marina Dalmacija Zadar the following facilities are available: a restaurant, bars and a grocery shop. The restaurant offers its guests delicious food which is prepared in the traditional Dalmatian manner. About 5000 m2 of surface are intended for dry berths. There are three cranes having capacity of 30, 35 and 65 tons available. The largest berth's width is 6 m.
In Marina Dalmacija Zadar a magnificent coast, a sea without hosts of people, a simple rhythm of living, state-of-the-art equipment and a warm welcome will be awaiting you. Marina Dalmacija Zadar is one of the most beautiful marinas in the Adriatic since it is located in the centre of the most magnificent area of the Adriatic coast. It is an ideal starting point to begin exploring the Adriatic Dalmatian archipelago. Moreover, Marina Dalmacija Zadar has been built as an environment-friendly facility and has been receiving International Blue Flag for clean sea for several years.